Hawaii's Best Hepatitis A, B, & C Blood Cleanup Company
Available 24/7
Immediate Response Time
Compassionate & Discrete
Located on Oahu – Locally Owned
No Out of Pocket Costs
Covered by Homeowners Insurance*
Licensed, Bonded, and Insured
Call (808) 388-6700
Hepatitis A, B, & C Blood Cleanup
Available 24-7 with fast and professional blood cleanup services, Bio X Hawaii uses the latest disinfection technology to safely get you back to business as usual as quickly as possible after a Hepatitis infection. Hepatitis means an inflammation of the liver. Some of the most common viruses that cause this are Hepatitis A, B, and C. Easily spread and potentially life-threatening, it is important to disinfect an area where spread of the virus has occurred.
With the three types of Hepatitis viruses most common in the United States, it can be easy to mix them up with each other. Though there are significant differences between the three, symptoms, when they do appear, are very much the same.
Symptoms of Hepatitis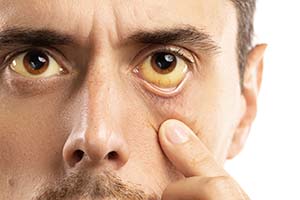 yellowing of the skin and eyes
fever
muscle and joint aches
fatigue
fever
nausea
vomiting
Thankfully, we have vaccines for Hepatitis A and B but there is no vaccine for C. Similarly, there are medications to treat B and C, but Hepatitis A typically goes away on its own, though, it is extremely contagious and can spread quickly.
Hepatitis A
Most Hepatitis A cases go away after several weeks. Present in the feces of those infected, the disease is passed when a person consumes contaminated food or drink. This can happen when someone uses the restroom and doesn't fully wash their hands then touches food for others. The disease can also be spread through sexual intercourse or drug paraphernalia. For example, an infected employee at a restaurant can infect hundreds of people in a day. While Hawaii typically doesn't have many cases per year, outbreaks can be and have been disastrous.
With an incubation period of 15-50 days and a time of illness from 2-6 months, most people, but not all, come down with symptoms. While there is no cure, lots of rest, plenty of fluids, and good nutrition helps a person recover. While vaccines are now standard for children, adults can seek vaccination as well.
Hepatitis B
Hepatitis B is both a short term and chronic illness. Some people recover while some people's livers are damaged then they must live with the disease. Most common in Asia and Africa, Hepatitis B is spread through blood and other body fluids. Not everyone will experience symptoms but there is a blood test to determine if someone is positive. There is now a vaccine for Hepatitis B and all people should get it, especially if they are at greater risk of being infected.
Hepatitis C
While there are medications to treat Hepatitis C, there are no vaccines available. Hepatitis C is a long-term disease and only some people display symptoms. A blood test can identify whether a person is infected with the disease. You can catch the disease through encountering infected blood of another person. This can take place during sexual intercourse, sharing needles, via a blood transfusion before 1992 (blood wasn't tested for Hepatitis C before this date), and, rarely, through giving birth.
Blood Cleanup and Decontamination for Hepatitis A, B, & C
To reinstate a clean environment where it's safe to serve food or people to occupy requires a property affected to be sanitized and disinfected from ceiling to floor. Only then can business resume. This can be difficult for people untrained in infectious disease cleanup to accomplish. Regular household cleaners simply aren't powerful enough to disinfect an area and the Hepatitis viruses can survive for weeks or months afterward in traces of blood. Don't leave yourself open to legal liability by not having your property professionally cleaned and disinfected. At Bio X Hawaii, we are always here to help you with the latest cleaning technology and industrial-grade cleaners. Working meticulously through a space, we make sure no area is missed and all the
Hepatitis viruses are gone.
Hepatitis Among the Homeless
Infection of Hepatitis A, B, and C can be particularly prevalent among the homeless. With no sanitary restrooms and potential drug use, Hepatitis can be quite prevalent in homeless camps. If you have had a homeless camp, drug use, or unsanitary conditions on your property, our staff at Bio X Hawaii are here to help by disinfecting the property and removing the threat of transmissible diseases.
Why Choose Bio X Hawaii?
Bio X Hawaii are the leading blood and disease cleanup experts throughout Hawaii. With a team dedicated to quickly restoring a property, we understand your needs and are here to answer all your questions.
Available 24/7 for Hepatitis A, B, and C blood cleanup, we diligently make sure all traces of the virus are removed and safe living conditions restored. Any time you call, you'll reach our owner, Mark. He'll then go through the process with you then set up a time to come out and complete the work. Payment is only taken after the job is complete and we strictly comply with all local and federal rules and regulations. With a flawless record over our 10+ years of operation, we can typically be at a job site in less than an hour.
Give us a call today.
Emergency Cleanup Services You Can Depend On
We are based on O'ahu, but we service all of the Hawaiian Islands.
Hawai'i
Maui
O'ahu
Kaua'i
Niʻihau
Kauaʻi
Molokaʻi
Lānaʻi
Niʻihau
Bio-X Hawaii • 98-138 Hila Place, Pearl City, HI 96782-3201
Mailing Address: 98-820 Moanalua Rd, Suite I5-707, Aiea, HI 96701 • (808) 388-6700
Ⓒ 2017-2023 Bio X Hawaii • All Rights Reserved. • Sitemap