Hawaii's Best Biohazard Cleanup Company
Oahu Biohazard Cleanup Services
Available 24/7
Immediate Response Time
Compassionate & Discrete
Located on Oahu – Locally Owned
No Out of Pocket Costs
Covered by Homeowners Insurance*
Licensed, Bonded, and Insured
Call (808) 388-6700
Hawaii's Biohazard Cleanup Company
Bio X Hawaii provides biohazard cleanup and bio hazardous waste removal services throughout Hawaii.
The aftermath left behind by a death, traumatic injury, or hazardous contamination can be very difficult to cope with. In addition to the emotional trauma is the health risk to yourself and others with blood, and other bodily fluids contaminating your home or business. Don't put yourself at risk. If you're dealing with needed biohazard cleanup, call Bio X Hawaii for fast and thorough decontamination. Bio X Hawaii provides biohazard cleanup and bio hazardous waste removal services throughout Hawaii.
Hawaii Certified Biohazard Cleanup Company
With every person we work with, we are determined to show in all we do why we are the #1 biohazard cleanup team throughout Hawaii. Bio X Hawaii services all types of establishments from homes to businesses including places such as tattoo parlors, assisted living facilities, and urgent care centers. We have a perfect record with not a single citation or fine in 10+ years in the industry. Ready whenever disaster strikes, FEMA recognizes our impeccable track record by including us in national disaster response teams.
We provide biohazard cleaning services for: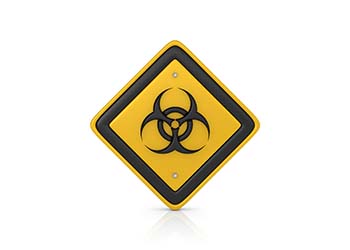 Let the Professionals Handle Biohazard Cleanup
If biohazards are present in your Hawaiian home or business, let the professionals handle any needed cleanup and restoration. Whether you are dealing with blood, bodily fluids, urine, feces, or other chemicals resulting from crime investigations, there are inherent risks to handling such materials and catastrophic consequences if any are left behind.
Many people don't realize that even if an area looks clean, there can still be numerous microscopic biohazards present on surfaces or that bodily fluids tend to soak multiple layers of building materials. Even if the surface is cleaned, the underlying layers can remain contaminated if you don't know where to look. Our experienced staff have handled numerous situations involving a variety of biohazards and know not only where to look but also what industrial-grade cleaners work to clean various materials. We also have the equipment to cover a large area in a short amount of time, permanently remove any lingering odor, and test to make sure all biohazards have been removed for your piece of mind.
Bio X Hawaii Treats You Like Family
At Bio X Hawaii, you aren't' just another client – you are ohana – and we go out of our way to treat you as such. Caring you and your family as our own, we make sure your needs are our priority and that you are listened to and shown compassion. Whether you need a hoarded home cleaned out, rodent droppings removed, or blood cleaned up and the area decontaminated, we are here for you to make sure your needs are met and you are able to move on with your life.
Our staff understand what a difficult time it can be when biohazard cleanup is needed and so we arrive to your property in a discreet vehicle with plain uniforms in order to protect your privacy. We can also handle any insurance claim paperwork on your behalf and answer any questions your insurance company may have. With us, you are in the best of hands.
Bio X Hawaii is Available 24-7
With Bio X Hawaii, you are our #1 priority. Our staff of experienced biohazard cleanup experts are here to make sure your home or business is thoroughly clean and safe for you and your loved ones. Available around the clock, 24-7, we are here for you whenever you need us to decontaminate your property. Based on Oahu, we gladly cover services throughout all the islands of Hawaii.
Call Today for Fast and Thorough Biohazard Cleanup
Mark, the owner of Bio X Hawaii, is always here to talk with you personally at (808) 388-6700 and to answer all your questions. Whether you want a free estimate and consultation or immediate biohazard cleanup, we are here to make sure you and your Hawaii property are cared for.
Emergency Cleanup Services You Can Depend On
We are based on O'ahu, but we service all of the Hawaiian Islands.
Hawai'i
Maui
O'ahu
Kaua'i
Niʻihau
Kauaʻi
Molokaʻi
Lānaʻi
Niʻihau
Bio-X Hawaii • 98-138 Hila Place, Pearl City, HI 96782-3201
Mailing Address: 98-820 Moanalua Rd, Suite I5-707, Aiea, HI 96701 • (808) 388-6700
Ⓒ 2017-2023 Bio X Hawaii • All Rights Reserved. • Sitemap