Maui's Best Biohazard Cleanup Company
Biohazard Cleanup Services
Available 24/7
Immediate Response Time
Compassionate & Discrete
Locally Owned and Operated
No Out of Pocket Costs
Covered by Homeowners Insurance*
Licensed, Bonded, and Insured
Call (808) 388-6700
Biohazard Cleanup on Maui
Bio X Hawaii provides biohazard cleanup services throughout the communities of Maui. Whether you are dealing with an accident, crime, suicide, or death, our staff at Bio X Hawaii have the experience it takes to clean and disinfect your property so you are safe from any resulting hazards.
With the health of the environment in mind and strict adherence to all OSHA rules and regulations, we are extremely careful about green cleanup and legal disposal of all biohazards.
Maui Biohazard Cleaning Services
As the most trusted biohazard cleanup company throughout Maui, we treat every client like a family member and regard them with respect and compassion.
No matter what biohazard issue you're dealing with on your Maui property, we will have the area quickly cleaned and restored. From disinfecting your property after a crime, blood spill, or suicide, we are the reliable company you can turn to.
The most common services we provide include:
Death cleanup: When a person isn't found right away after the pass, the body is free to decompose. While this is a natural process, the resulting fluids and body tissues soak into the surrounding environment and into multiple structural layers depending on the amount of time before discovery.
Suicide cleanup: Whether you are experiencing the aftermath of a suicide in your private residence or a vacation rental, we'll make sure all traces of the event are removed and your property restored.
Blood cleanup: Our team will make sure every drop of blood is removed whether it's on a surface or soaked into the walls or floors.
Biohazard cleanup: Different biohazards involve different cleaning techniques. No matter what hazardous substance you're dealing with, we have the skills to clean it up.
Crime scene cleanup: From large to small crime scenes, we'll make sure all biohazards including blood, investigative chemicals, and drug paraphernalia are removed and the property disinfected.
We travel to communities throughout Maui
While Bio X Hawaii is based on Oahu, we travel throughout the Hawaiian Islands including the island of Maui. This includes flying over to where you are and usually staying at least one night on Maui.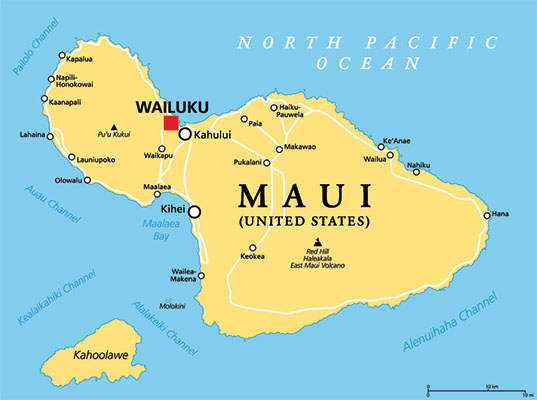 While we provide biohazard cleanup services to all parts of the island, communities we travel to include (but aren't limited to):
Ka'anapali
Kahului
Keokea
Kihei
Kula
Lahaina
Ma'alaea
Makawao
Makena
Napili
Pukalani
Wailea
Leave biohazard cleanup to the professionals
Whether you are dealing with a vacation rental, your business, or a private residence, protect yourself and your investment by leaving biohazard cleanup to the professionals. We don't want anything to happen to you or for you to suffer any consequences from improper cleanup. If biohazards aren't cleaned up correctly, blood, body fluids, and other biohazards can remain hidden. These hidden hazards pose a threat to the health of anyone in the area, can damage the building structure, and may create a foul odor throughout the space.
Each member of our crew has the training and experience to clean your space of all biohazards from top to bottom. From small areas to large, we quickly seal off the area to prevent cross-contamination, then methodically work to make sure every tiny of biohazardous material has been removed from all the nooks and crannies so you and your investment is safe from harm.
Never let anyone untrained in professional and legal biohazard cleanup undertake the task. Without the proper know-how and the legal permits and licenses to dispose of the waste, you can face legal liability and financial repercussions. By hiring Bio X Hawaii, you can rest easy your property is protected and the job has been done to the highest standards.
We work with your property insurance
Most of our work is covered by your property insurance company. Though you will need to check on the coverage parameters of your specific policy, biohazard cleanup due to crimes, suicides, and deaths are nearly always included.
With no money taken upfront, we will carefully document all damages, file the claim on your behalf, and bill the insurance company directly so you don't have to. As a fully licensed and certified biohazard cleanup company that works throughout Hawaii, you can rely on us to get the job done correctly with as little inconvenience to you as possible. Simply give us access to your Maui property and we'll take it from there.
Talk directly with our owner to arrange for services on Maui
Whenever you need us, our staff at Bio X Hawaii are here for the community of Maui to make sure you and your loved ones are safe from harm. We'll take the weight of biohazard cleanup off your shoulders so you can focus on recovering from your loss or injury.
When you call us, you'll be talking directly with the owner, who can answer any questions you may have. After obtaining some basic information from you, Mark will walk you through what will need to be and can schedule with you a time to complete the cleanup.
Simply give us a call and let us know how we can help you.
Emergency Cleanup Services You Can Depend On
We are based on O'ahu, but we service all of the Hawaiian Islands.
Hawai'i
Maui
O'ahu
Kaua'i
Niʻihau
Kauaʻi
Molokaʻi
Lānaʻi
Niʻihau
Bio-X Hawaii • 98-138 Hila Place, Pearl City, HI 96782-3201
Mailing Address: 98-820 Moanalua Rd, Suite I5-707, Aiea, HI 96701 • (808) 388-6700
Ⓒ 2017-2023 Bio X Hawaii • All Rights Reserved. • Sitemap